---
blog:       How To Escape Drug Addiction…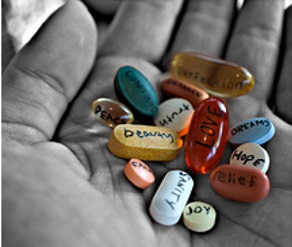 Dale Carnegie said, "speak about something you have earned the right to talk about."
Unfortunately and shamefully, I have earned the right to speak on drug addiction.
Taking drugs leads to destroyed relationship and families on many levels. Druggies commonly lose all credibility with everyone except other druggies. Unfortunately, for the drug user, it can take many years or decades before they look back and see the path of destruction they have created and begin to feel a sense of responsibility for their actions. Even then they are reluctant to accept full responsibility for their behavior and resort to blaming family or society for their horrible life. Sadly, drug use creates lifelong addictions that many never overcome and really don't want to overcome because they are no longer able to function in reality without the mind-altering substance. There is a reason it's called "DRUG ADDICTION."
Life was meant to be lived without the use of "mind-altering drugs." Most chemically dependent druggies began as recreational users before graduating to full-blown drug abusers. Before long a physiological and emotional addiction sets in and the druggie is caught up in a cloud of self-denial and a drug-induced false perception of reality. At this point, one goes from telling a few lies to hide their addiction, to their life becoming one gigantic lie. Because they are slaves to the addiction, anything or person that dares interfere with the druggie's escape from reality becomes their enemy. Cops, courts, parents, family or caring friends must all be effectively scammed or alienated in order for the druggie to live the lie. Having once been a druggie I know the drill from the inside out. It is a life of constant deception and denial.
Druggie's lives are empty and void of true joy, peace, and love. Druggies function in 3 general states:
Activity that leads to getting loaded or high.
Being high or loaded.
Crashing down from being high or loaded.
Most druggies can be observed in one of these 3 states with regularity and predictability. Some druggies will tell you they are not druggies and they can stop anytime they chose. A few druggies will even get clean for a few weeks or months to defend their argument, but the addiction soon calls them right back into the trap. They are powerless to end the madness. The one constant with druggies is that they cannot live without using a mind-altering substance to face their daily lives on this earth.
Contrary to widely held beliefs, most druggies are not criminals. They suffer from a psychological, medical and spiritual dysfunction. Incarcerating druggies does not help them or solve the problem. Prison is not the answer for nonviolent druggies.
Recently, I heard a former druggie talk about how much he loved getting high and how he could not imagine his life without drugs. But one day he met Jesus and was totally set free from his addictions. Over 40 years have passed since then and he remains totally drug-free and totally committed to God.
This is how it was for me, a former druggie. There was a huge and powerful sea of drug addiction that separated me from God. It was unnavigable and completely uncrossable. But one day, while I was powerless to help myself and overcome my drug abuse, Jesus came to me and totally delivered me from drug addiction and forgave all my sins. That's right, He came to me, entered my world of dysfunction and set me free! Consider the following:
He came to me, He came to me.
When I could not come to where He was, He came to me.
That's why He died on Calvary,
When I could not come to where He was, He came to me.
He came to me when I was bound in chains of sin,
He came to me when I possessed no hope within,
He picked me up and He drew me gently to His side,
Where, today, in His sweet love I now abide.

—Squire Parsons

If you could see where Jesus brought me from,
To where I am today;
Then you would know the reason why I love Him so,
Now you can take this world's wealth and riches,
I don't need earth's power;
It's my desire to live for Him.

—Jimmy Ray Pearce
I love the words in these old songs because they help explain how God changes lives and why we love Him so much! God is more powerful than anyone's drug addiction. There are many reasons why we become druggies, but only one sure road to freedom and His name is Jesus!
Escaping drug addiction is possible when you fully and completely surrender your life to God. He is the real escape you have been searching for through drug use but were unable to find true satisfaction and fulfillment that is only found in Christ. I am living proof that God can give you a new life. Just call on His name!
If you are uncertain that you are truly born again, please consider the following.
---
Please read:    The Destructive Power Of Addiction
Be sure to share this article with others!
---