---
Suffering From Spiritual Blindness?
Understanding Spiritual Blindness And How To Overcome It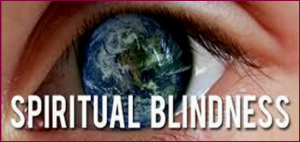 Spiritual blindness is serious life threatening condition caused by demonic activity exercising control over our sinful nature. The effect of such activity obscures and ultimately darkens our minds ability to understand spiritual truth and the need for God's love and salvation through Jesus Christ. Truth is hidden from our understanding and our blind minds cannot see the need for repentance and faith in Jesus. The apostle Paul explains it this way:
And even if our gospel is veiled, it is veiled to those who are perishing. 4 The god of this age has blinded the minds of unbelievers, so that they cannot see the light of the gospel that displays the glory of Christ, who is the image of God. (2 Corinthians 4:3-4 NIV)
Spiritual blindness is a deadly condition resulting in eternal separation from God. It is the primary reason unbelievers do not respond to God's call to repentance and the new birth. Spiritual blindness is responsible for causing people to "perish" in the lake of fire (Revelation 20:15). In the passage above, the chief culprit is identified as "the god of this age," he is the rascal hiding the truth from us. Satan has orchestrated the greatest deception ever known to mankind because it leads to the greatest consequences one could ever suffer, separation from God and eternal punishment in a place called hell.
How does Satan blind people's minds from the truth of God and salvation?
Satan works through people as they go about their daily lives sharing their beliefs, morals (or lack thereof) and their way of life with others. Unofficially, many people serve as mentors and role models in their social network wielding great influence over peer-group thinking, beliefs and behavior. Satan influences our thoughts by playing spiritual or moral mind games as we try to reason right from wrong. Satan also influences and uses predominate public behavior, cultural practices and beliefs while knowing most of us follow the crowd and want to fit in. Achieving social acceptance and the social norm, regardless of its immoral implications, is highly desirable to our sinful nature. Our sinful nature is wired to desire and digest the unhealthy acceptable norms.
The arts and entertainment sector provide a creative outlet for demonic influence masking as acceptable social beliefs and behavior. Mixed messages like a rap singer thanking "the Lord Jesus Christ," for his Grammy award honoring a gang banging, women raping, profane filled, trash talking song often influences impressionable minds—see mom he's a Christian too.
We understand from the Scriptures that Satan's sphere of influence permeates all facets of society, even the church. He is an adversary of every believer and is likened to a roaring lion seeking to devour the believer. To the unbeliever he is a blinding force seeking to inflict spiritual blindness in their minds, keeping all unbelievers from the truth. He is know as the "prince and power of the air."
Wherein in time past ye walked according to the course of this world, according to the prince of the power of the air, the spirit that now worketh in the children of disobedience: (Ephesians 2:2 KJV)
Let's examine how the "god of this age" blinds minds.
Convinces people there is no devil and God's existence is doubtful at best. Society is filled with these highly sophisticated arguments that promote the nonexistence of a devil and possibly no God. They argue that no one really knows and it is impossible to prove. 

Mocks and ridicules Christianity as a man-made faith for foolish and stupid people. The idea presented here is that only those of inferior intelligence and easily deceived actually believe and practice Christianity. Our culture, in general, mocks and ridicules Christians because they are viewed as gullible fools.

Confuses people with countless religions and belief systems. No one has time to learn and study in great detail who is telling the truth.

Discredits the Bible as God's inspired and infallible word. The inspiration and accuracy of the Scriptures have been under attack for many years. 

Fills people's minds with doubt, unbelief and mind games. This is exactly what he did to Eve in the garden, "Did God really say, 'You must not eat from any tree in the garden'?" (Genesis 3:1 NIV). 

Uses distraction to obscure one's mind from seeing the truth. "For everything in the world—the lust of the flesh, the lust of the eyes, and the pride of life—comes not from the Father but from the world." (John 2:16 KJV). Many people's lives are so consumed with life's distractions and are blinded from seeing the truth.


Masquerades as a devout believer or Christian leader who deceives and destroys the faith of others through false teaching.

Masquerades as an angel of light using supernatural manifestations to blind unbelievers from believing in the God..

Leads people to mistakenly trust in good deeds or living a good life instead of repenting and being born again.

Deceives people into lives of sinful practices and pleasures of this world. Drug and alcohol addiction, sexual immorality and criminal lifestyles to name a few. 

Employs the theory of Evolution to challenge God's Creation teaching. Uses unprovable theories as science, claiming there is no God. By the way, the theory of Evolution is a religion or belief, not real science.

Flat out lies about God. "When he lies, he speaks his native language, for he is a liar and the father of lies." (John 8:44 NIV)
Spiritual blindness is overcome by reading God's word and honestly and sincerely talking to God.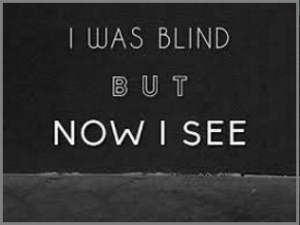 God's word provides a miraculous antidote for spiritual blindness. Reading the Scriptures releases faith and illuminates the mind of anyone who sincerely wants to know God. Consider the following:
For the word of God is alive and active. Sharper than any double-edged sword, it penetrates even to dividing soul and spirit, joints and marrow; it judges the thoughts and attitudes of the heart. (Hebrews 4:12 NIV)

So then faith comes by hearing, and hearing by the word of God. (Romans 10:17 NIV)
As a former spiritually blind unbeliever I shall never forget how God rescued me from the darkness I was living in. I visited a church where the gospel was being proclaimed and people were being born again. I purchased a Bible, started reading it and said out loud to God, "if you are really real I ask you to reveal yourself to me?" The following week I returned to church and gave my heart to Christ. Immediately, something miraculous happened. The presence of God began to illuminate my mind and His words seemed to come alive in my heart. My eyes were opened wide to the false values, philosophy and so-called happiness that I was living in and constantly being promoted by the world. I could see and understand as never before. I had discovered the purpose of life, the Creator of the universe and the Savior of the world who died in my place for my sins. I was born again over 40 years ago, but it seems like yesterday.
Here are 4 practical steps to overcoming spiritual blindness.
Sincerity of heart must be present. No one responds to insincerity, not you, not your family, not your friends and certainly not God.

Set aside a special time to read the Bible for 30 minutes each day. Ask God to reveal himself to you as you read His word. The Gospel of Luke is a great place to start.

Go visit a church where the Bible is taught and people are being born again. If you don't know of a church ask someone you know to be a real Christian.
Isn't it time to turn your life over to Jesus?
If you have been encouraged by New Life Exchange, you can share us on Facebook or other social media sites at the bottom of this page. Thanks for sharing!
---