---
Is God Politically Incorrect?
Is Political Correctness Good For America?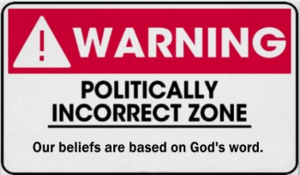 Political correctness (PC) flows from the heart of secular humanism. Secular humanism is the philosophical ideology that places humans, not God, as the highest authority of truth, behavior and morality. Secular humanistic logic or reasoning, which is void of godly truth or precepts, drives the conscience of what is called the PC philosophy. The PC crowd is responsible for promoting many PC behaviors and beliefs including abortion on demand, kicking God out of public schools, fornication, adultery, advocating homosexuality, promoting same-sex marriage and now demanding that sexually confused men use the girls bathroom with your 10-year-old daughter.
PC is often reasoned and argued from relativism or "relative truth." There is little respect or consideration for what we call "absolute truth." Most Christians mistakenly believe that all truth is absolute and the scriptures only contain absolute truth. When we read the New Testament we find that God no longer requires certain things done in the Old Testament. The profound teaching of law and grace teaches, we are no longer bound to the absolute truth of the Mosaic law to obey its every command, but under the absolute truth of the New Testament grace and mercy.
Secular humanist and the PC crowd will quickly point out that your Bible says you must stone people for certain sins, but do you do that which it says?  Isn't that what God commanded? Why aren't you obeying God?
We understand during a time in the past, stoning was the relative truth and law prescribed for certain sins. Now that God has fulfilled certain spiritual requirements through Christ, we see stoning as a "relative truth" only for a certain period of time. It is no longer relevant today, but obsolete. This is why we are instructed to study the Scriptures so we know how to refute false doctrine (Titus 1:9 NIV).
In the Old Testament certain sexual sins were punishable under the Mosaic law by stoning. This was God's absolute law, truth, and penalty for various sexual sins under the law (Leviticus 18 and 20). However, in the New Testament we find that sexual sins once punishable by stoning are no longer punishable in that way. Therefore, while the timeless absolute truth that sexual sins are forever forbidden, the penalty for such sins (stoning) is no longer applicable. So we understand that forbidden sexual behavior is an "absolute truth" and a timeless truth across both Testaments, while the prescribed punishment was a "relative truth" only true in the past, but no longer true are applicable today.
Jesus makes this clear in John 8:1-11 where we find a woman caught in adultery which was punishable by stoning. The Pharisees demand she be stoned according to the law of Moses. Jesus suggest they go right ahead and stone her, but only those without sin should cast a stone—they all walked away. Then Jesus said to the woman, "Neither do I condemn thee: go, and sin no more." It is important to note here that Jesus told the woman "sin no more" or stop your adulterous behavior. Therefore, adultery is a sin, but no longer punishable by stoning, but nevertheless a sin that keeps people out of heaven when practiced as a lifestyle—but that's another sermon (1 Corinthians 6:9 NIV).
As Christians we must always examine truth, behavior and moral beliefs against God's word to determine if it is supported or disapproved of by God. God's word is the highest and final authority on any subject. As David declared: "Your word is a lamp for my feet, a light on my path" (Psalm 119:105 NIV).
To the secular humanist who have denounced God's truth and promote the PC philosophy that is seducing the minds of young people, hear what the Lord says:
Woe to those who call evil good and good evil, who put darkness for light and light for darkness, who put bitter for sweet and sweet for bitter. 21 Woe to those who are wise in their own eyes and clever in their own sight. (Isaiah 5:20-21 NIV)
We Christians have submitted our lives to Christ's Lordship. We have repented and abdicated the throne of our hearts. Christ is now on the throne as Lord, King and Savior. Christ now occupies the center of our lives. His word, His truth, His teaching, His approval, His love, His fellowship, His knowledge and His wisdom now flows into our hearts and governs our human existence on this earth. Through the new birth (being born again) we receive spiritual illumination by His Holy Spirit and are able to discern truth from error, right from wrong and good from evil.
The secular humanist have rejected God and substituted their own truth, behavior and morality as their highest authority. God's truth is not allowed or welcomed in their deliberations unless it supports their beliefs. In general they reject God and His word. They believe humans created God and religion to order and control people. Therefore, God is not relevant to the humanist because he only exist in man's imagination. Secular humanist view God as a fairy tale believed by ignorant and fearful humans. In a sense, the humanist have abandoned and killed off God. This is what German philosopher Friedrich Nietzsche was saying over a century ago and reemerged in a 1966 Time magazine article Is God Dead?
God is dead. God remains dead. And we have killed him. How shall we comfort ourselves, the murderers of all murderers? What was holiest and mightiest of all that the world has yet owned has bled to death under our knives: who will wipe this blood off us? What water is there for us to clean ourselves? What festivals of atonement, what sacred games shall we have to invent? Is not the greatness of this deed too great for us? Must we ourselves not become gods simply to appear worthy of it?  (The Gay Science, Section 125, The Madman).
Nietzsche believed that society was guilty of casting off God and was in danger of entering Nihilism: the rejection of all religious and moral principles. The humanist agenda is to create a society governed by humans, not God, as the highest authority of truth, justice, fairness, human rights, and morality. Only humanist have the collective intellectual knowledge to determine what behavior, speech, laws, rules and policies are best and correct to order society. Welcome to the PC world.
So how are the secular humanist doing playing God? Here are a few of their achievements:
ABORTION: Murder on demand, the law of the land.
REJECTING GODLY EDUCATION: Kicking God out of public schools.
SEXUAL FREEDOM: Date sex, recreational sex, prostitution, pornography, etc.
ADULTERY: It's not what you think honey, I don't love him/her.
HOMOSEXUALITY: We were born LGBT, it's not a behavior or choice.
SAME-SEX MARRIAGE: Now legally equal to traditional marriage.
ALL GENDER RESTROOMS: Male, female and the confused. Next, all gender showers in the schools?
Is it possible that self-centered mankind has outgrown the need for a personal relationship with an ancient and invisible God, in effect killing off God? The scriptural instructions concerning one's thoughts, beliefs, attitudes, behavior, faith, pray, worship, respect, honor, forgiveness, mercy, grace, love, purity and the like must not be cast-off to embrace the latest PC dogma being propagated.
God is not dead, He is alive, watching and waiting for us to turn from our rebellious ways. God is not part of the PC movement and what the secular humanist call enlightenment. Real enlightenment comes from God living inside your heart and mind. We are the temples God seeks to occupy—our hearts His throne. We desperately need God to open our eyes and see how lost and confused we really are, that we have lost our way and are headed down the path to eternal separation from God. Secular humanist have spread a cloak of darkness over the conscience of many Americans, blinding them from the "absolute truth".
Everyone of us must find our way through this life and into the next life. Only those who have repented and turned to God the Father through His Son Jesus will have eternal life!
He who has the Son has life; he who does not have the Son of God does not have life. (I John 5:12)
READ THIS:  Finding Your Way
If you have been encouraged by New Life Exchange, you can share us on Facebook or other social media sites at the bottom of this page. Thanks for sharing!
---