---
Sensing God's Presence: Is It Real Or Emotionalism?
Do People Really Experience God's Presence?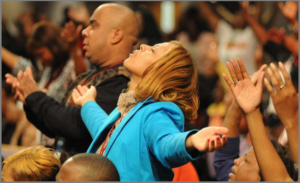 From early childhood, we were taught that God exists everywhere and His watchful eyes see our every move. We are told God knows our thoughts, behavior and even our secrets. Nothing in all creation is hidden from God. The theological terms are omnipresent and omniscient.
 The eyes of the Lord are everywhere, keeping watch on the wicked and the good. (Proverbs 15:3 NIV)

Nothing in all creation is hidden from God's sight. Everything is uncovered and laid bare before the eyes of him to whom we must give account. (Hebrews 4:13 NIV)
History records millions, if not billions, of people who have testified in word, literature and song about sensing or being in the presence of God. Such terms as sensing, feeling and experiencing God's presence are common among Christians. Reports of God's presence filling the church building, a prayer room, a home and even a car as we drove along are ubiquitous among Christians. On a personal level we speak of God's presence filling our hearts, minds and totally beings. Moreover, the invisible presence of the Lord is often manifested through our emotions and behavior. Tears of joy, peace, laughter, sorrow, sobbing, falling to one's knees, falling prostrate are just a few of the expressions and emotions that happen when God's presence overwhelms us.
Those unfamiliar with God's presence are quick to characterize any outward expression of God's presence as emotionalism. Their assessment is that the emotional expression is not caused by the presence of God, but by emotionalism itself. Their assumption is often supported by examples of those prone to easily cry, laugh or given to unwarranted excitability. Such analysis often lacks no disdain for the outward manifestation of God's presence. In their unspiritual minds, such folks are often classified as simpletons who are easily whipped up into an emotional frenzy. And while it is true that emotional and easily excitable people do exist, we must be careful not to misinterpret the genuine presence of God as emotionalism—it is not.
When we speak of God's presence we are not strictly referring to His invisible omnipresence, but to the presence of His Holy Spirit that lives inside every born again Christian. Consider the Apostle Paul's words to the 1st-century church:
Do you not know that you are the temple of God and that the Spirit of God dwells in you? (1 Corinthians 3:16 NKJV)

And if the Spirit of him who raised Jesus from the dead is living in you, he who raised Christ from the dead will also give life to your mortal bodies because of his Spirit who lives in you. (Romans 8:11 NIV)
God the Holy Spirit lives inside every born again believer. Conversely, people who have not experienced the new birth (born again) can not and do not possess the indwelling presence of God, Romans 8:9-11. Anyone claiming to be a Christian, but does not have the Spirit of Christ (Holy Spirit) living in them, is not a child of God. Consequently, the spiritually unregenerated mind is incapable of grasping the spiritual reality of God's indwelling presence and views the experience as foolishness, 1 Corinthians 2:14. Therefore, we Christians should not be surprised when unbelievers consider us to be emotional nut cases because they have no personal point of reference or understanding of God's presence. Although God is omnipresent, God's presence does not live or dwell inside of unbelievers and the concept is alien to their natural minds.
The 1st-century church placed great emphasis on the Holy Spirit and the fiery baptism of power that accompanied the experience. Acts 2:1-13, provides us with an example of God's Holy Spirit coming to dwell inside of about 120 believers, including the apostles. This experience (being baptized into the Holy Spirit) involved speaking in other tongues and loud demonstrative behavior that was mistaken as drunkenness by the crowd of onlookers. The outward emotional and verbal expression of the Holy Spirit baptism was ridiculed and mocked by those lacking spiritual illumination.
As a point of clarity, it should be noted here that there is a difference between being in the presence of God, the presence of God being in you and the baptism of the Holy Spirit. The baptism of the Holy Spirit is subsequent to our salvation experience and empowers believers with various supernatural gifts, 1 Corinthians 12:1-11. Other instances of the Holy Spirit baptism include Acts 8:14-17, Acts 10:44-46 and Acts 19:4-6.
God's presence is everywhere, but God's indwelling presence is by invitation only. We must ask God to come live inside our hearts and minds, but remember this, before God will accept our invitation we must first turn to Him in true repentance and receive forgiveness, Acts 2:38. It is only when we surrender our lives to God that our spiritual understanding awakens and God's glorious light illuminates our hearts and minds. Only then will we see ourselves and others through the eyes of God.
The triune composition of mankind is body, soul and spirit. Prior to repentance and being born again we are living souls, living in physical bodies, with dead or dormant spirits. The spiritual person comes alive by God's Spirit through a supernatural process called regeneration or the new birth (born again). At this point, the spiritual man is made alive by God's Spirit and is empowered to take the leadership role over our soul and body to bring us into conformity with God's will and His "abundant life" (John 10:10 NKJV). The spiritual nature is analogized as an infant who must be nurtured and trained to become a mature spiritual being, 1 Peter 2:2, Ephesians 4:11-15. This will only happen as our spirit yields to the Holy Spirit's leadership and teaching. Through participation in the local church gatherings and personal time alone in prayer, worship, reading and studying the scriptures we develop spiritual maturity. God's Holy Spirit is present in our lives to "lead and guide us into all truth," (John 16:13) as we engage in these spiritual activities. This is what the apostle Paul is explaining in the Romans 8:1-17. Consider these passages:
Those who live according to the flesh have their minds set on what the flesh desires; but those who live in accordance with the Spirit have their minds set on what the Spirit desires. (Romans 8:5 NIV)

For if you live according to the flesh, you will die; but if by the Spirit you put to death the misdeeds of the body, you will live. 14 For those who are led by the Spirit of God are the children of God. (Romans 8:13-14 NIV
Jesus taught in John 3:1-8 that experiencing God's presence on the inside begins with being born again. You must be "born again" to see and enter the Kingdom of God. In verse 6 we read:
Flesh gives birth to flesh, but Spirit gives birth to spirit (John 3:6 NIV).
It is easier to experience God than to explain Him. Christianity and our salvation involves a relationship with the Father, through His Son, in the power of the Holy Spirit. It begins with our repentance and truly turning to God. We must all come to a point in time where the absolute reality of our sinfulness is exposed by the supernatural convicting power of God's Spirit inasmuch as we can not and will not live any longer in denial of our sin and separation from God. Only a moment such as this will usher in the presence of God and transform our lives.
 And when He has come, He will convict the world of sin, and of righteousness, and of judgment: 9 of sin, because they do not believe in Me; 10 of righteousness, because I go to My Father and you see Me no more;11 of judgment, because the ruler of this world is judged. (John 16:8-11 NKJV)
 The Greek word for convict, "elegchō," encompasses the sense of exposure, shame, remorse or guilt for living separate from God and living in disobedience to God's will for our lives. This supernatural interaction of God's Spirit is God's specific process to bring about repentance in our lives. When this "conviction" is felt in our heart and mind we will do one of three things: accept God, reject God or conjure up some kind of self-styled religious deal that tries to meet God halfway. Unfortunately, this self-styled religious deal is where we find the majority of people today, latched on to some religious creed—some loosely and others firmly. Religion is not a substitute for a relationship with the indwelling Spirit. Those that fashion their own deal do not understand that God requires unconditional surrender. You cannot make a deal with God—you surrender your entire life to Him, A-Z  (100%).
 Repent, then, and turn to God, so that your sins may be wiped out, that times of refreshing may come from the Lord. (Acts 3:19 NIV)
In God's presence we find love, mercy, grace, forgiveness, joy, healing and peace of mind. His presence is real!
READ THIS:  Are You Really Born Again?
If you have been encouraged by New Life Exchange, you can share us on Facebook or other social media sites at the bottom of this page. Thanks for sharing!