---
Your Religion Will Not Fool God
Religion Is Not A Substitute For A Real Relationship With God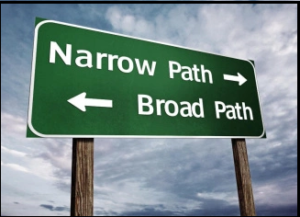 Imagine standing before Jesus trying to argue your way into heaven and after making a solid case for acceptance Jesus says, "I never knew you. Away from me, you evildoer." Could this happen to you? Is it possible to believe in God, live a good life, attend church, pray for others, have undeniable supernatural experiences or even be a minister or religious leader and be found unworthy of entering heaven? Well, listen to the words of Jesus:
"Not everyone who says to me, 'Lord, Lord,' will enter the kingdom of heaven, but only the one who does the will of my Father who is in heaven. 22 Many will say to me on that day, 'Lord, Lord, did we not prophesy in your name and in your name drive out demons and in your name perform many miracles?' 23 Then I will tell them plainly, 'I never knew you. Away from me, you evildoers!' (Matthew 7:21-23)
Prior to Jesus making this shocking declaration He tells us in Matthew 7: 13-14 that in this life there are two distinct paths from which we must choose—one wide, the other narrow. The "wide road" is the preferred choice traveled by most people. It is a popular road, appearing safe and attractive to the masses. The "narrow road", clearly less popular, appears unattractive and is therefore rejected by the masses while only a few seem to chose it over the broad path of inclusion.
The "wide path" is extremely liberal in it's values, progressive in social reforms and sympathetic toward everyone's personal lifestyles, religious beliefs, and philosophical views (excluding biblical Christianity). There are no real taboos here—it is the path of inclusion where dysfunction, lewdness and immorality are celebrated. Pop star or porn star, it's all just fine. Live and let live. There are no absolutes on this path, lies become truth and truth becomes lies. It is a path where the blind are leading the way and the masses follow. The highest governing authority on this road is human intellect and human government. This is the path of all who reject God. The atheist, agnostic and every know religion can be found among the wayward masses. Jesus refers to this path as the path that leads to destruction.
The "narrow path" is quite different in that it is highly regulated by propriety, decency and godly principles. There are designated standards of beliefs and behaviors that are immutable and unalterable. There is forgiveness for failure and power to overcome the impossible. Everyone is in the process of conforming and being conformed to a Christlike image. All travelers here are born again believers in Christ and posses forgiveness of sin and eternal life. The narrow path is illuminated by the holy scriptures that teach faith, hope and love. The highest authority on this path is the Creator. He is highly honored and at the center of every traveler's life. This is the narrow path, the road that leads to life (eternal life).
"Enter through the narrow gate. For wide is the gate and broad is the road that leads to destruction, and many enter through it.14 But small is the gate and narrow the road that leads to life, and only a few find it.  (Matt. 7: 13-14)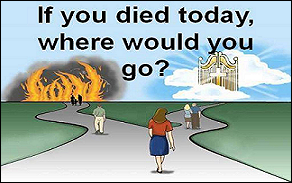 Please take a moment and consider what Jesus is saying. There are only two paths in this life and we are all traveling toward our chosen path's final destination. According to Jesus, loss and destruction awaits those on the wide path. Beyond death in the afterlife we are warned of an absolute hell that engulfs all that have chosen the wide path of destruction. A hell from which there is no relief or escape. A darkness so horrible that it is beyond words. A place where suffering is without end. It is the destination prepared for all who reject the only Savior of the world. A place that should be of grave concern to anyone traveling down the wrong road.
On the narrow path God's mercy, grace and forgiveness are always in abundant supply. God invites all to join Him on the narrow path of salvation and turn from their sinful ways with godly sorrow and true repentance. There are no religions here on the narrow road, it's all about a relationship with God the Father, through His Son Jesus, in the power of His Holy Spirit. As we journey toward our destination we experience supernatural knowledge, wisdom, peace, joy and the love of our heavenly Father. We are comforted by God's presence and empowered by His love. On this path we will discover the real purpose of life. On the narrow path we share in fellowship with the living God, salvation through His Son and supernatural power to reach our destination—eternity in the presence of God our Father. Access to the narrow path is made possible because Jesus suffered and died for the sins of all humanity. He is the only way and the only path that leads to the Father—be not deceived.
Jesus answered, "I am the way and the truth and the life. No one comes to the Father except through me. (John 14:6)

The choice is ours to make. There are two paths from which to choose, but only one leads to eternal life.
Which path are you on?
Bless others by sharing. If you have been encouraged by New Life Exchange, you can share us on Facebook or other social media sites at the bottom of this page. Thanks for sharing!
---