---
The Problem Is Not The Symptom
You Can't Solve The Problem By Treating The Symptom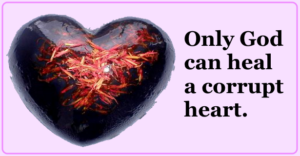 The symptoms of a declining society can be identified by rampant drug and alcohol addiction, infidelity, divorce, sexual immorality, rape, murder, racism, sexual perversion, crime sprees, rioting, terrorism and so on. In desperation, we have turned to addiction programs, psychology, law enforcement, government agencies and even religious organizations for help. Over the years billions of dollars have been spent on solutions that treat the symptoms of degradation while ignoring the root problem. The serious problems plaguing our families and communities are symptomatic of a deeper root cause. The underlying root cause of these symptoms (problems) is deeply embedded in the corruption of our unspiritual hearts.
We live in a world where the vast majority of society sees little or no connection between the rejection of God and the degradation of society. Somehow we have deluded ourselves into thinking it is possible to educate, legislate and incarcerate our way out of this downward demise. Such efforts do not address the real problem. We have no medication, laws or counsel to heal the corruption of our wicked hearts. Morality is not found in a pill or program. No amount of legislation will produce morality, only punish the lawbreakers. True morality flows from a cleansed heart, a pure heart, a heart that has been transformed and restored by the supernatural power of the living God. We do not need remedial treatment, but holy redemption made possible by and through the precious blood of Jesus.
When our hearts are changed from the inside out, our thoughts, attitude, and behavior change. The heart without the indwelling presence of God's Holy Spirit remains incapable of righteousness because it is bound by the corruption of our sinful nature.
The heart is deceitful above all things, and desperately wicked: who can know it?  (Jeremiah 17:9 NKJV)

He went on: "What comes out of a person is what defiles them. 21 For it is from within, out of a person's heart, that evil thoughts come—sexual immorality, theft, murder, 22 adultery, greed, malice, deceit, lewdness, envy, slander, arrogance and folly. 23 All these evils come from inside and defile a person." (Mark 7:20-23)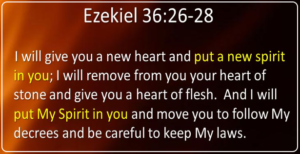 The problem is not in our heads, it's in our hearts. We are not lacking knowledge of right and wrong, as though our bad choices or behavior resulted from a lack of understanding. Have you ever know anyone that was committing adultery and didn't know it was wrong? Nope! If they told you otherwise they were lying.
The fact is, we have full knowledge that it is wrong to follow the corrupt desires of our heart, but all too often the desires of sexual immorality or some other forbidden desires become more powerful than the knowledge that it is wrong to do such things. We find ourselves nearly powerless to resist the compelling forces, yielding to the corrupt desires while ignoring the knowledge that we are making the wrong choice. Therefore, our wrongful, indecent, ungodly, unrighteous acts bear witness that our hearts are dysfunctional, diseased and corrupt. No level of teaching, training, talking, explaining, threatening, punishing, medicating or rehabilitation can effectively change the condition of our corrupt hearts. The unspiritual and corrupt heart cannot be changed through human efforts. Divine intervention is needed to transform and heal the condition of our corrupt hearts.
Let me be clear. It is not possible for us to change ourselves. There is no list of rules or do's and don'ts that we follow to effectively heal our corrupt hearts. It is not possible to change the corrupt nature of our hearts by simply doing what is right—you can't. We must be changed by a power that is greater than our corrupt hearts and that power is God. Our hearts must be changed from the inside out by God. Only then will we possess the power to say no to what is wrong and yes to what is right.
Since the fall of mankind, God has been calling for us to turn to him for healing. Consider His plea as delivered by the O.T. prophet Ezekiel:
I will give you a new heart and put a new spirit in you; I will remove from you your heart of stone and give you a heart of flesh. 27 And I will put my Spirit in you and move you to follow my decrees and be careful to keep my laws. (Ezekiel 36:26-27)
The idea that our hearts are corrupt and must be changed by God's power is replete throughout the scriptures. Jeremiah 24:7; Psalm 51:10; Romans 2:29; 12:2; and 2 Corinthians 5:17, all speak to the healed or changed heart coming from God, not man.
The present and growing degradation so prevalent in our communities today is unequivocally a direct result of rejecting God's healing for our corrupt hearts. In our quest for "life, liberty and the pursuit of happiness," we have forgotten that these unalienable rights flow from a divine dimension and are endowed upon us by God. The fullness of these and other godly endowments will never be realized when we reject God and treat Him with shameful disrespect. In rejecting God to seek these declared rights we are destroying our families, communities, and society. There is no real life, no true liberty, and no lasting happiness when we reject God's healing and salvation made available through Jesus Christ. It is a mistake to assume the blessings of God can be obtained apart from a right relationship with Him—they cannot. We are guilty of exhibiting a prideful contempt toward God's love by demanding we have the right to govern our own lives without His intervention. Consequently, the rejection of God is fostered by our love for the forbidden and corrupt desires of our hearts. It is our insatiable appetite for the forbidden passions and desires of sin that hinder us from turning to God in true repentance.
Every individual must make a choice to turn to God or continue in rejection of His love. Either we will continue to follow the corruption of our hearts or we will repent and cry out to the Redeemer of corrupt hearts for mercy, grace, healing, forgiveness and new life through Christ.
You may be interested in this blog:  Are You Really Born Again?
Bless others by sharing.
If you have been encouraged by New Life Exchange, you can share us on Facebook or other social media sites at the bottom of this page. Thanks for sharing!
---