---
Do You Need A New Life? 
Is There More To Life Than You Are Experiencing?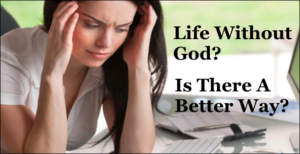 There is no real life apart from God, only a life of despair. The power of despair creates a hopeless condition from which escape seems impossible. This quiet desperation is often camouflaged by busy and active lifestyles that afford little time for reflection. We are forever chasing the dream of a life filled with satisfaction apart from God. Our inward emptiness longing for satisfaction or fulfillment will never be satisfied through human activities alone, there must be divine intervention. To deny or casually dismiss our absolute need for God's intimate presence and loving fellowship leaves us shackled to a fruitless and unfulfilled existence. The fact that God has offered us a new and better way of life than we were born into should cause us to question our present condition. Is there something more to life than we are experiencing? Have we been duped into believing that this is all there is to life?  Consider the words of Jesus:
The thief does not come except to steal, and to kill, and to destroy. I have come that they may have life, and that they may have it more abundantly. (John 10:10 NKJV)
We Are All Lost Without God
Has God misjudged us by declaring, "For all have sinned and fall short of the glory of God." (Romans 3:23)? Is there a legitimate argument that proves we are not sinners as God has charged? Has God falsely accused the innocent? Can a perfect and flawless God be wrong? If God is mistaken about our sinfulness, how can he be an infallible God? And if God is imperfect, His words are unreliable. How can anyone trust anything God says?
If God said we are lost, then we are lost, no matter how much we believe He is wrong and all is well—it is not. If we are unwilling to concede we are sinners in need of God's forgiveness and redemption, we will remain lost and trapped in sin's despair.
In John 15:5 Jesus told his disciples, "apart from me you can do nothing." Oh, how true this is. All we could ever hope to acquire and accomplish in this life will mean nothing when we take our last breath here on Earth. All that will matter then is where will we spend eternity? Will we find eternal joy in the presence of our Lord and Savior or will we suffer eternal damnation in a fiery hell? Listen carefully to the words of Jesus:
What good will it be for someone to gain the whole world, yet forfeit their soul? Or what can anyone give in exchange for their soul? (Matthew 16:26)
Unless we realize how hopelessly lost we are without Christ, we will remain in our sins, chasing a life of emptiness. We will remain unwilling to repent and receive His forgiveness. He is the Savior, the only savior that has come down from heaven to rescue the lost from their sins.
God Sent Jesus To Rescue Us From Death And Destruction
The concept of a fiery hell is real and it remains the eternal destination for all who reject God's plan of salvation through Jesus Christ. God will not save those who refuse to be rescued. Therefore, the question that must be answered is found in Hebrews 2:3, "how shall we escape if we ignore so great a salvation?"
Now our natural response to this question is, "there must be another way of possessing eternal life and avoiding death and destruction?" With all the religions, denominations and beliefs in the world there must be another way, right? No, that is not right according to the scriptures:
Salvation is found in no one else, for there is no other name under heaven given to mankind by which we must be saved." (Acts 4:12)
As dogmatic and narrow-minded as this sounds, God has determined and declared that Jesus Christ is the only savior of the world. His declaration is not based on some arbitrary decision or overbearing propensity to dominate mankind, but on the propitiatory and substitutionary crucifixion of Jesus Christ for the sins of mankind. As the apostle Paul taught the Corinthian Church in 2 Corinthians 5:21:
God made him who had no sin to be sin [a sin offering] for us, so that in him we might become the righteousness of God.
Jesus is no ordinary man, he is the son of God, the embodiment of Father in human form. Jesus explains his unique incarnation in response to Philip's request, "Lord, show us the Father and that will be enough for us," (John 14:8).
Jesus answered: "Don't you know me, Philip, even after I have been among you such a long time? Anyone who has seen me has seen the Father. How can you say, 'Show us the Father'? Don't you believe that I am in the Father, and that the Father is in me? The words I say to you I do not speak on my own authority. Rather, it is the Father, living in me, who is doing his work. Believe me when I say that I am in the Father and the Father is in me; or at least believe on the evidence of the works themselves. (John 14:9-11)
What separates Jesus from all others is the fact that Jesus is God in human form. Moreover, Jesus took upon himself the sins of the world and suffered the penalty for our sin, death ("the penalty for sin is death" Rom. 6:23). Moreover, Jesus not only paid the penalty for our sin, God the Father resurrected Jesus from the dead and He is our living Savior who desires to give us a new life. Therefore, Jesus is the only one qualified to be the one and only Savior.
For God so loved the world that he gave his one and only Son, that whoever believes in him shall not perish but have eternal life. (John 3:16)
Because of God's great love, all who turn to Jesus in true repentance and call on his name shall be saved. To ignore this is to live in despair.
The Old Life Is Replaced With A New Abundant Life
In John 3:3, 5 we hear Jesus saying, "you must be born again" to see and enter the kingdom of God. In 2 Corinthians 5:17 we read about becoming a "new creation" made alive in and through Christ. In Romans 6:4 we are promised that we "too may live a new life." This life of which we speak is the life that Christ promised to all who turn to God in true repentance.
The thief does not come except to steal, and to kill, and to destroy. I have come that they may have life, and that they may have it more abundantly.(John 10:10 NKJV)
The Greek word "zoe," translated "life," and the Greek word "perissos," translated "more abundantly," speaks of a supernatural life that transcends our natural existence. This abundant life is powered by the Spirit of God living inside of us, directing us, leading us, teaching us, comforting us, imparting wisdom, knowledge, encouragement and confidence to us. As unbelievable as this may sound to you, when we are born again God's Holy Spirit comes to reside inside our hearts and minds.
But when he, the Spirit of truth, comes, he will guide you into all the truth. He will not speak on his own; he will speak only what he hears, and he will tell you what is yet to come. (John 16:13)

But the Advocate, the Holy Spirit, whom the Father will send in my name, will teach you all things and will remind you of everything I have said to you. (John 14:26)

You, however, are not in the realm of the flesh but are in the realm of the Spirit, if indeed the Spirit of God lives in you. And if anyone does not have the Spirit of Christ, they do not belong to Christ. (Romans 8:9)
When we are born again our spiritual nature is awakened by the presence of God's Holy Spirit and we are supernaturally connected to God's divine knowledge that, at first, is spoon fed to us as we grow in the grace and knowledge of God. As we mature in our relationship with God we begin to understand the deeper things of God's mind and heart that up until now were impossible to comprehend without being born again. The illumination of His presence teaches us spiritual truths and principles that literally transform our lives in ways we never thought possible. The enrichment of God's presence living on the inside is beyond human intellect in ways one cannot imagine! It is supernatural and it is real!
The "thief," mentioned in John 10:10,  symbolizes every person, thought, idea, teaching, philosophy, religion and argument that is contrary to and opposes the message of new life in Jesus Christ. Their lies are designed to mislead, deceive, defraud, deprive, confuse and keep us in darkness, bound to a life of despair. They are likened to a criminal that only comes to "steal, kill, and destroy" our lives. We must abandon them and turn to the giver of new life, the lover of our souls, Jesus. 
We Must Repent And Turn To God
The path to true forgiveness of sins is through repentance.
Peter replied, "Repent and be baptized, every one of you, in the name of Jesus Christ for the forgiveness of your sins. And you will receive the gift of the Holy Spirit (Acts 2:38).
Repentance is the act and only act that causes the Holy Spirit to rebirth our spirit and create a new abundant life. No one can be born again until they repent and there can be no new life or salvation apart from repentance. The word "repent" (Greek "metanoeo") and "repentance" (Greek "metanoia") refer to a "change of mind." Repentance is a change of mind accompanied by regret and a true change of heart toward God.  The combination of the Greek words "noieo" to "know or comprehend," and "meta," which means "after," is understood to mean "to know after the fact." This conveys that one has comprehended that his former behavior, life, ideas, philosophy, religious views and relationships are wrong. The true revelation of repentance causes us to look in the mirror and see a sinner in need of rescuing.
Although we have only scratched the surface here, what we have shared is sufficient to help you understand whether or not you need a new life. Life without Christ is to live in hopeless despair. Isn't it time to surrender your life to Jesus Christ as your Lord and Savior? Isn't it time to have your sins forgiven and experience the abundant life we have been discussing?
---
You may be interested in this blog:  Are You Really Born Again?
Bless others by sharing.
If you have been encouraged by New Life Exchange, you can share us on Facebook or other social media sites at the bottom of this page. Thanks for sharing!
---