---
Navigating Life's Raging Storms
How To Cope With And Survive Life's Horrific Storms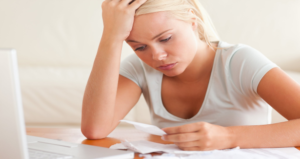 No one's life is trouble-free and no one is immune from trouble. The tears of troubled times are a universal language understood by all people. The fact that we are born into a world of trouble is mentioned in the Scriptures. In John 16:33, Jesus told the apostles that in this world "you will have tribulation." Job 5:7 says, we are "born to trouble."
There are 3 general stages of trouble: Heading towards trouble, caught up in trouble, and recovering from trouble. This cycle continues until death and even then it doesn't cease for those who reject God and find themselves cast into the eternal flames of trouble in a place called hell.
Trouble varies in intensity and duration. It comes in every shape and size imaginable and unimaginable. Life is filled with trouble and some folks live in constant trouble, never escaping its menacing effects. Others experience troubled times punctuated by seasons of peace, but "peace" is a misnomer here. When we speak about having peace in our lives we often mean the absence of adversity, hostility or trouble. Sometimes we find ourselves wishing that all our troubles would just go away so we might have a little peace. This peace is often fleeting and short-lived because a new episode of trouble is just around the next corner. Just when it appears things are settling down, the next wave of trouble comes roaring in. 
Now I suppose we could go on ad nauseum discussing the various types of troubles and suggesting coping strategies for each problem, but that discussion would be endless and unproductive. Instead, we will share a passage of scripture that will help us rise above every problem, trial, tribulation, hardship, and difficulty that comes our way in this life. Listen as the apostle Paul shares how he survived one of his lowest moments as a Christian:
We do not want you to be uninformed, brothers and sisters, about the troubles we experienced in the province of Asia. We were under great pressure, far beyond our ability to endure, so that we despaired of life itself. 9 Indeed, we felt we had received the sentence of death. But this happened that we might not rely on ourselves but on God, who raises the dead. 10 He has delivered us from such a deadly peril, and he will deliver us again. On him we have set our hope that he will continue to deliver us, 11 as you help us by your prayers. Then many will give thanks on our behalf for the gracious favor granted us in answer to the prayers of many. (2 Cor. 1:8-11)
What is important to note here is not the specific trouble that Paul and his evangelistic team faced in Asia, but how it disrupted their confidence and faith in God, and how ultimately they learned to hope and rely on God. The "troubles" Paul references had affected them to the extent that:
They were overwhelmed, "under great pressure, far beyond our ability to endure" (v8).
Their spiritual, mental and emotional state deteriorated to the point they "despaired of life itself" (v8).
They felt and accepted the fact that life was over, receiving the "sentence of death" in their minds and hearts (v9).
Because we live in a troubled world with troubled people, it is not possible to avoid all trouble. We may do our best to anticipate, prevent, avoid, ignore, run, or hide from trouble, but trouble has a way of finding us in spite of our best efforts to live trouble-free lives. Just because the road ahead appears safe and trouble-free is not a guaranty that trouble is not lurking around the next bend.
The secret to coping with trouble is found in the latter portion of verse 9 where the apostle Paul shares the spiritual insight he learned while in a state of utter hopelessness:
But this happened that we might not rely on ourselves but on God, who raises the dead. (v9)
One of the most amazing things about being a child of God is understanding that God is our strength and refuge in troubled times. He is ever present to help us in every way.
God is our refuge and strength, an ever-present help in trouble. (Psalm 46:1)
Over the years I have come to realize that no one fully knows and understands how to adequately comfort and counsel us through the troubles we face in this life—God excluded. This is not to say we have no responsibility to support, comfort and help each other get through troubled times. On the contrary, we are instructed in the scriptures to comfort each other, 2 Cor. 1:3-4. However, the ministry of brotherly love, support, comfort, counsel and help will be limited if we have not learned to rely on God, "who raises the dead."
Like the apostle Paul, we too will face overwhelming troubles that go "far beyond our ability to endure," cause us to "despair of life itself" and make us feel as though we just received a death sentence. Learning to lean on God and rely on Him to provide supernatural strength, comfort, counsel, wisdom, peace and deliverance in the midst of life's raging storms is something that even the apostle Paul had to learn.
In the 23rd Psalm, verse 4, we read:
Yea, though I walk through the valley of the shadow of death, I will fear no evil; For You are with me; Your rod and Your staff, they comfort me. (Psalm 23:4 NKJV)
The narrow path of righteousness leading to eternal life is said to pass through "the valley of the shadow of death." Paul's trouble in Asia became his "valley of the shadow of death." Death's dreadful shadow had cast the "sentence of death" upon his soul, from which he knew no natural escape was possible. But in this valley, like the psalmist David, Paul learned that God had not forsaken him, but was still with him and that navigating the treacherous path through the valley would require relying on God, "who raises the dead." Learning to rely on God was his only way out.
Paul's declaration, "on him we have set our hope," speaks to us today as we face our troubled valleys through which we must travel on our way to heaven. We must avoid over analyzing our troubles, which only leads to despair and hopelessness. Our hope must be firmly grounded in God, "who is able to do exceeding abundantly above all we ask or think" (Eph. 3:20 NKJV).
In John's Gospel, Jesus said, "In this world you will have trouble. But take heart! I have overcome the world."
---
You may want to read: Broken People