---
Do People Have A Right To Go To Hell?
The Shocking Truth Why People Choose Hell Instead Of Heaven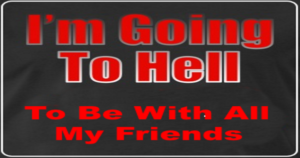 Life's journey ends at death's door where everyone enters the afterlife facing one of two possible destinations, heaven or hell. Most humans mistakenly believe good people go to heaven and bad people go to hell, but this popular assessment is flawed.
In Romans 3:23 we are told, "all have sinned and fall short of the glory of God." In other words, we are all guilty of sin. By definition, "sin" (Greek: n. hamartia, v. hamartanō) means "to miss the mark, to err by falling short" of God's divine standards—something we are all guilty of doing. Consequently, we are all sinners and we all fail to meet God's perfect standard. 
Now we humans are notorious for devising our own "you know what I think" philosophy based on human logic or intellect rather than God's word. This flawed view segregates people into two classes, the good who go to heaven, and the bad who go to hell. Then we strive to tip the odds of heaven in our favor by living in such a way that our good outweighs our bad. We develop our own standards of subjective comparison that measures one person's behavior as bad and another's behavior as good with only a few sins or shortcomings. To each group we ascribe rankings:
Definitely going to heaven.

Probably going to heaven.

Not sure.

Probably going to hell.

Definitely going to hell.
Most folks consider themselves to be a pretty good judge of character and I would agree. However, our judgments and standards of conduct may be helpful on a day-to-day basis as we navigate this life, but they are powerless to effectively qualify or disqualify us in respect to our eternal destination. Only God has the right to judge and decide who goes where in the afterlife, and He is never wrong.
Our eternal destination should not come as a mystery or surprise to anyone. God has made it very clear in His word that some folks will reject Jesus Christ as their savior. In John 3:18, we read that those who reject God through unbelief live in a state of condemnation, on their way to hell. They are not in possession of eternal life in heaven because they have rejected Jesus Christ and God's plan of rescuing all from the consequences of sinful behavior. Remember, in Romans 3:23, we read that all have fallen short, all are sinners having completely missed the mark of obedience to God's standards of conduct and morality.
When I think of how ungodly and sinful I once was, and even though I have strived to do what is right over the past 40 years, I continue falling short of His glory. I now realize that all that I have earned or deserve is a place in hell as just punishment for my sin. Our condition is such that no one can earn their way to heaven. No one will be declared righteous by their own obedience to God's laws or standards (Romans 3:20). No one is qualified for heaven, but because of God's great love He sent His Son to suffer the consequences of our sin and take upon Himself our punishment for being "bad people." His crucifixion on the cross was substitutionary. Jesus was not a sinner, but he died a sinner's death. Christ died for the ungodly, for sinners, for bad people. Therefore, my eternal destination is not based on what I have done, but on what Jesus has done for me and in my place. He paid the penalty for my sin and suffered in my place. How can I or anyone reject His love?
You see, at just the right time, when we were still powerless, Christ died for the ungodly. 7Very rarely will anyone die for a righteous person, though for a good person someone might possibly dare to die. 8But God demonstrates his own love for us in this: While we were still sinners, Christ died for us. (Romans 5:6-8)
Christ died for all sinners while we had no true love and respect for Him. We were his enemies, Rom. 5:10, while he died in our place. We were busy living ungodly lives, thinking our religious activity and man-made standards of conduct and morality would impress God—it did not. It was the love of the Father and His son Jesus Christ that caused Jesus to die in our place so that we might possess eternal life in heaven.
And you also were included in Christ when you heard the message of truth, the gospel of your salvation. When you believed, you were marked in him with a seal, the promised Holy Spirit, 14who is a deposit guaranteeing our inheritance until the redemption of those who are God's possession—to the praise of his glory. (Eph. 1:13-14)
God has given every person the right to choose their eternal destination. To enter heaven we must "hear the message of truth." What truth? We are all sinners in desperate need of a Savior. We must either believe or reject God's verdict that "all have sinned and fallen short of the glory of God." When we honestly come to the place that we realize how hopelessly lost we are without Christ and we are willing to believe the message of truth, we will receive the mark of God in our lives, His Holy Spirit. The Spirit's presence is a daily reminder that we are God's property, and when life's journey ends we will receive our eternal inheritance, heaven.
When you consider all that God has done to rescue us from a place called hell, it becomes truly shocking that someone would choose hell over heaven. At the center of this choice is the root cause, unbelief and a love for sin. As shocking as it may sound, many people love their ungodly way of life that is separate from God. Turing to Christ in true repentance would force them to change or conform to the image of Christ as Romans 12:2 tells us. Listen to how the apostle John puts it:
This is the verdict: Light has come into the world, but people loved darkness instead of light because their deeds were evil. 20Everyone who does evil hates the light, and will not come into the light for fear that their deeds will be exposed. 21But whoever lives by the truth comes into the light, so that it may be seen plainly that what they have done has been done in the sight of God. (John 3 19-21)
Many people refuse to attend a Christian church service or read the Bible because they don't want to be exposed to the light, they hate the light. The presence of Christ and the Holy Spirit would be a daily torment to their ungodly lifestyle. Consequently, they refuse God's plan of salvation because it would interfere with their sinful lives they love so much more than God.
It is God's desire that no one goes to hell, but that they are reconciled to God through Christ our Lord.
Therefore, if anyone is in Christ, the new creation has come:a The old has gone, the new is here! 18All this is from God, who reconciled us to himself through Christ and gave us the ministry of reconciliation: 19that God was reconciling the world to himself in Christ, not counting people's sins against them. And he has committed to us the message of reconciliation. 20We are therefore Christ's ambassadors, as though God were making his appeal through us. We implore you on Christ's behalf: Be reconciled to God. 21God made him who had no sin to be sin for us, so that in him we might become the righteousness of God. (2 Corinthians 5:17-21)
---
You may be interested in this blog:  Are You Really Born Again?
Bless others by sharing.
If you have been encouraged by New Life Exchange, you can share us on Facebook or other social media sites at the bottom of this page. Thanks for sharing!