---
Do You Believe In Destiny?
Understanding The Choices And Decisions We Make And Their Positive Or Negative Outcomes.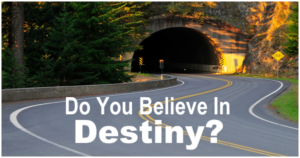 Destiny is a religious doctrine that teaches our fate is predetermined by some hidden force or power that results in the positive and negative outcomes in our lives. Many people believe we cannot control or escape our destiny—what will be, will be. Hardcore believers are called fatalist and believe we are absolutely powerless to change any outcomes in our lives. Others point to destiny to explain why some horrific and incomprehensible event happened in their life. Destiny is often used as a scapegoat by those refusing to accept personal responsibility for their bad decisions. When the negative consequences of poor choices impact their lives, destiny is blamed.
In the book of Hebrews 9:27, the Bible speaks of two destinies that we cannot change or avoid—death and God's judgment. While both are unavoidable, God's judgment has two possible outcomes, and these outcomes will be a direct result of a decision or choice we made at some point during our lifetime.
 And as it is appointed unto men once to die, but after this the judgment: (Heb. 9:27 KJV)
This decision or choice of which we speak focuses on God's Son, Jesus. What did we do with Jesus? Did we ever take the time to learn about Him or study the Scriptures that teach about Him? Did we ever come to a personal understanding of why He was viciously and violently crucified on the cross? Did we ever approach Him and really try and understand why He came to earth and if He is really coming back? Did we ever come to the saving knowledge of Jesus?  In other words, did we ever repent, turn to Christ and receive forgiveness for all our sins? This one decision will affect where we spend eternity—heaven or hell. Our decision to surrender our lives to Christ and follow Him as our Lord and Savior is the most important decision we will ever make.
There is no middle ground when it comes to Christ. Either we have repented and are born again as the Scriptures teach, or we remain outside of God's saving grace. Simply saying we believe in God or Jesus and going to church is not going to be enough. James 2:19 tells us that the devil believes in God, and I know he goes to church quite regularly, but he is not going to be in heaven. God requires true heartfelt repentance. We can not modify God's plan of salvation to fit our ungodly lives. That's what religion does, and while many religions focus on making us the best version of us, Christ calls us to become the best version of Him—a truth that is exceedingly worthy of thoughtful reflection. Moreover, through the presence of the Holy Spirit in our hearts, God not only calls us to become Christlike, He provides us with the power to become Christlike in every way.
His divine power has given us everything we need for a godly life through our knowledge of him who called us by his own glory and goodness. 4Through these he has given us his very great and precious promises, so that through them you may participate in the divine nature, having escaped the corruption in the world caused by evil desires. (2 Peter 1:3-4)
There are no words to adequately explain how it feels to participate in the divine nature of God and to be filled with the presence and power of His Spirit, but this is exactly what happens when we truly choose to repent and are born again. What I can say is this, God enters your head through your heart and then the transformation to Christ-likeness begins. God challenges us to become like Jesus in every way while offering us supernatural power to do so.
When I first turned to Christ around 44 years ago I was just a goofed-up kid in desperate need of forgiveness. I understood nothing about the true character and nature of God, other than He loved me and wanted me to repent and call on the name of Jesus for forgiveness. At that time I found myself faced with two choices. Either I could choose Christ or walk away. The decision to follow Christ and surrender to his Lordship over my life seemed irresistible and I just couldn't say no, so I made the decision to open the door of my heart and let Christ in. Since that day I have never stopped thanking God for rescuing me from a life of darkness.
My friends, life is all about making choices, and the choices we make determine the negative or positive outcomes in our lives. If you have not made the decision to choose Christ, I urge you to choose Christ, choose a new life filled with the presence and power of God. Don't settle for becoming the best version of you. Christ is calling you to become the best version of Him.
Isn't it time for Jesus?
---
You may be interested in this blog:  Are You Really Born Again?
Bless others by sharing.
If you have been encouraged by New Life Exchange, you can share us on Facebook or other social media sites at the bottom of this page. Thanks for sharing!