---
The Message Of The Cross
The Power Of God Or A Fool's Tale?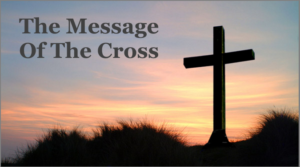 As a Catholic child I was taught that Jesus was crucified on the cross for our sins. Although I had no spiritual comprehension of what that meant or why Jesus had to die for our sins, I could mimic my catechism well enough to get an A+ which was redeemable for a 50¢ silver coin from my loving grandmother. Back then a snowball or candybar only cost 5¢ each and my cravings for sweets devoured those coins. Although I earned coins for candy I was clueless about Christ and the message of the cross.
The message of the cross reveals spiritual principles, laws and truths that flow from God's righteous character and nature. These spiritual realities divide people into two groups:
Those that conclude the message of the cross is "foolishness" and are doomed to perish.
Those that conclude the message of the cross is the "power of God" that saves people from their sins.
For the message of the cross is foolishness to those who are perishing, but to us who are being saved it is the power of God. (1 Corinthians 1:18 NIV)

The apostle Paul in his first letter to the Corinthians explains that "Christ died for our sins according to the Scriptures." The idea that our bad behavior or sin was the cause of Jesus suffering and crucifixion is an indictment against every human being by God the Father. Our sinfulness and ungodliness is such that we deserved to be crucified on that cross, but God in His loving mercy and grace became a man and took our place on the cross. He endured our punishment, suffering, shame and guilt. He died in our place on our cross. This is called the "substitutionary atonement" of Christ.
For what I received I passed on to you as of first importance: that Christ died for our sins according to the Scriptures, (1 Corinthians 15:3 NIV)

God made him who had no sin to be sin for us, so that in him we might become the righteousness of God.(2 Corinthians 5:21 NIV)
We Are All Guilty  Sinners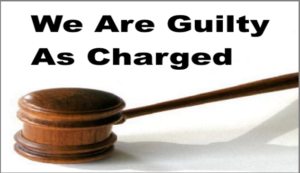 The message of the cross begins with God's judgment and condemnation against our sin. Until we are able to look in the mirror and see the reflection of a condemned sinner deserving of death and eternal separation from God, we cannot turn to the Father in true repentance. There must be an awakening, a revelation in our hearts and minds that we are what God has declared us to be—utterly corrupt sinners. Such a revelation is followed by overwhelming regret, remorse, conviction and confession. We must not allow the delusional power of prideful thinking to convince us that we are not guilty of God's judgment against us. We must willingly remove the mask of hypocrisy that has long since concealed our sinful nature. We must humbly come face-to-face with God's charge of sin and fall prostrate in full repentance.
It is interesting to note here that most of us have little problem identifying sin and ungodliness in other people and we are quick to point it out. However, when we examine ourselves we struggle to see the overwhelming corruption of sin. We make excuses and exceptions for who we are and what we do, but for others we demand a higher standard—don't sin around us or against us. Otherwise they will fall under the wrath of our self-righteous hypocrisy.
Let us be clear, God's charge against us is this; "all have sinned and fall short." All are unrighteous sinners. All are guilty and all need to repent and turn to the Father through Christ.
Understanding Christ's Sacrificial Death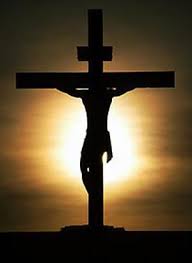 The symbolism of the Old Testament animal sacrifices and their blood points to a New Testament reality. For over 1,300 years these OT sacrifices were practiced by the Jews and provided a covering (not removal) for sin in two ways: First, faith in God and obedience to the practice of the sacrificial act was considered a form of worship. Secondly, the efficacy of these sacrifices was made possible through their spiritual connection to the true sacrifice of Christ for which they were emblematic. The OT sacrifices, however, seem to be a mystery to the Jews in that they failed to grasp their future tense or connection to Christ. They completely overlooked Isaiah's prophecies in his 53rd chapter concerning the coming Savior's sacrifice on the cross for our sins.
One of the best pictures of this connection between Christ and the animal sacrifices is seen in the OT High Priest annually entering the most holy place (the Holy of Holies) of the temple with the blood of a sacrificial animal and sprinkling it on the mercy-seat (earthly man-made symbolic throne of God). We learn in the NT that after His crucifixion and the resurrection, Jesus appears in heaven with His own body and blood before the real throne of God. We understand that the OT sacrifices pointed toward something far greater, the coming Messiah and His sacrificial death for our sins. Our sins were transferred onto Christ and His sinless life and He received our punishment for sin. Only a sinless perfect Savior could offer Himself as a substitute—He "who had no sin to be sin for us." This is why John said, "behold the lamb of God who takes away the sins of the world." (John 1:29 NIV).
We understand that the law of sin and death required the innocent animal and his blood be sacrificed as symbolic of Christ's sacrifice for our sins. The OT Jew gave his very best animal to God to be sacrificed as a covering for sin. Then Christ appears as the true sacrifice for all sin. The former symbolic animal sacrifice done in obedience to the OT law would one day cease when the real sacrifice was accomplished, "once and for all." God destroyed all sin and the power of sin in and through Christ.
As followers of Christ we identify with Christ's sacrifice through the Lord's Supper where we symbolically eat His flesh and drink His blood. This is a constant reminder that our forgiveness is not based on our perfect and sinless behavior, but on His beaten and broken body and His life-giving blood. His blood has washed us clean of every sin. Moreover, His blood remains ever active in our lives and continues to wash us clean of all sins, past, present and future. There is power in the blood of Jesus to impart forgiveness, healing, reconciliation, new life and eternal life. His blood, in a spiritual sense, flows into our dead sinful bodies to give us new spiritual life and daily cleanses our sins.
Before turning to God we were a sin-stained imperfect people controlled by our sinful nature. Our sin separated us from God and we were helpless to save ourselves. We could not stop sinning, it came naturally. If we tried to present ourselves to God as a good decent people our sins would have shouted us down. We were all guilty of sin and the penalty was eternal death.
For all have sinned and fall short of the glory of God (Romans 3:23 NIV)

For the wages of sin is death, but the gift of God is eternal life in Christ Jesus our Lord. (Romans 6:23 NIV)
Imagine if God was to simply forgive you of every sin you ever committed and wipes the slate clean—you are now sinless. Then God promises you will spend eternity in heaven with Him, but there is one condition; you must not commit another sin for the rest of your life. Tell me now, would you make it to heaven? Well, unless you dropped dead that very minute you are going fail and fail miserably. No matter how many times God repeated the deal, you would end up sinning within a short period of time. This is because we are incapable of overcoming sin on our own, we need a Savior, a Deliverer. It is impossible to stop sinning and cleanse ourselves of sin, we need to be cleansed by God, washed in the precious blood of Jesus Christ. Sin has infected us and we are unfit to enter God's presence or heaven. Without Christ substitutionary death we will be held accountable for our sin and face God's declared penalty for sin which is eternal separation and death in a place called hell.
While some may consider God overbearing or unfair, they are mistaken. God has not only judged our sin, declared us guilty and sentenced us to death, He came in the person of Jesus to suffer the full penalty for all our sins—past, present and future. Friends, He took our place on the cross. Only Christ, the Son of God and sinless sacrifice could offer His perfect innocent life as a propitiatory sacrifice.
When Christ hung on the cross, sin and the power of sin was placed on His sinless life and once and for all punished and destroyed. This was the only way God could restore and reconcile mankind to Himself, by shedding the blood of an innocent person. But this is no ordinary person, this is Emmanuel, God in the flesh.
I am not certain it is humanly possible to fully comprehend what God has accomplished for us through Christ, but perhaps this explanation may help. God, who is perfect and holy, sat on His throne and righteously condemned sin and mankind to death—we are sinners. Then he called for the executioners, stood up from the throne, laid aside His royal robe and went to the cross to suffer His own righteous judgment upon sinful man. He bore our sins and judgment. Our innocent God dying for the ungodly while we were still His enemies. He became one of us to suffer His own judgment upon our sin.
Because of God's great love and the willingness of Jesus to take our place on the cross, we are free from sin through the precious blood of Jesus!
Blessed is the one whose transgressions are forgiven, whose sins are covered. 2 Blessed is the one whose sin the Lord does not count against them and in whose spirit is no deceit. (Psalm 32:1-2 NIV)
Paul's teaching on the crucifixion of Jesus provides us with spiritual insight into the vicarious suffering, death and resurrection of Jesus. In a spiritual sense Paul says he was crucified with Christ. If this is true, and it is, then Paul's sins were paid for when he died with Christ and in Christ on the cross. But Paul was not a believer when Christ was crucified, but an enemy of Jesus. Nevertheless, Paul and all humanity can plead Christ's death as their payment in full for every sin. Here's how Paul puts it:
I have been crucified with Christ and I no longer live, but Christ lives in me. The life I now live in the body, I live by faith in the Son of God, who loved me and gave himself for me. (Galatians 2:20 NIV)
What I am saying here is just a brief explanation of Christ's sacrifice. The Scriptures contain a more comprehensive and detailed understanding and you should read and study Hebrews, Romans and the gospels over and over and over until the word of God burns into your soul these truths.
Without God's Love There Would Be No Message Of The Cross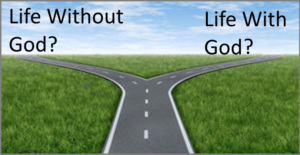 Let's face it, we have all sinned and rejected God at some point in our lives. If we are unwilling to admit this, we are only deceiving ourselves—no one else is going to buy into that delusion. However, God loves us so much that He refused to abandon us to our sinful ways—though He would be just in doing so. Therefore, God orchestrated a rescue mission, a plan to reconcile sinful man to Himself by dying in our place. God's amazing love, his infinite mercy and His matchless grace came together in the person of our Lord and Savior to rescue us from the power of sin. We were nothing more than guilty, condemned and blind prisoners of darkness awaiting judgment for our sin. But God, whose love is beyond human comprehension, refused to leave us to our evil ways and sent Jesus to suffer and die for our sins. Roughly 700 years before Christ's birth, Isaiah wrote of Jesus suffering:
Surely he took up our pain and bore our suffering, yet we considered him punished by God, stricken by him, and afflicted.  5 But  he was pierced for our transgressions, he was crushed for our iniquities; the punishment that brought us peace was on him, and by his wounds we are healed. 6 We all, like sheep, have gone astray, each of us has turned to our own way; and the Lord has laid on him the iniquity of us all. (Isaiah 53:4-6 NIV)
The apostle Paul speaks of God's awesome love in this way:
But God demonstrates his own love for us in this: While we were still sinners, Christ died for us. (Romans 5:8 NIV)
The apostle John gives us one of the most quoted verses of Scripture concerning God's amazing love and how it motivated God to give His Son Jesus to rescue all who believe in Him:
For God so loved the world that he gave his one and only Son, that whoever believes in him shall not perish but have eternal life. (John 3:16 NIV)
We are all unworthy or undeserving of God's love. Nevertheless, God became a human, walked and lived among us for the sole purpose of dying in our place for our sins on the cross. Knowing all this, how then can we ignore His irresistible love?
This is how God showed his love among us: He sent his one and only Son into the world that we might live through him. 10 This is love: not that we loved God, but that he loved us and sent his Son as an atoning sacrifice for our sins. (1 John 4:9-10 NIV)
Perhaps you have never truly understood the message of the cross and just how much God loves you and desires to change your life? If that happens to be where you are today, may I urge you to consider Jesus who loves you, bore all your sins and died in your place. Isn't it time to turn to Jesus in true repentance?
I love this verse from the old hymn And Can It Be That I Should Gain:
And can it be that I should gain an interest in the Savior's blood! Died he for me? who caused his pain! For me? who him to death pursued? Amazing love! How can it be that thou, my God, shouldst die for me? Amazing love! How can it be that thou, my God, shouldst die for me?
READ THIS:  5 Facts That Will Change Your Life Forever
If you have been encouraged by New Life Exchange, you can share us on Facebook or other social media sites at the bottom of this page. Thanks for sharing!