---
Do You Need To Attend Church To Be A Christian? 
The Growing Trend In Stay-At-Home Christians.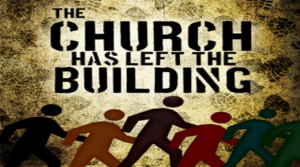 Roughly 114 million U. S. adults and their 42 million children (156 million in all) did not attend a Christian church in the 6 months prior to a Barna Group's 2014 survey. Surprisingly, 62% or about 70 million of the churchless adults surveyed stated they were Christians. At least 3 or 4 out of 10 consider their faith "very important," see themselves as "deeply spiritual" and say they have an "active relationship with God that influences their lives."
With the emergence of stay-at-home Christians, church attendance is being increasingly viewed as optional, but is this stay-at-home trend consistent with God's word? Consider the apostle's admonition:
Let us hold unswervingly to the hope we profess, for he who promised is faithful. 24 And let us consider how we may spur one another on toward love and good deeds, 25 not giving up meeting together, as some are in the habit of doing, but encouraging one another—and all the more as you see the Day approaching. (Hebrews 10:23-25 NIV)
The 1st-century church struggled with the same problem of stay-at-home Christians as we do today. Some believers simply quit attending the church services or gatherings, verse 25. Whatever their reasoning was for becoming stay-at-home believers, the church (Christians) is instructed to not give up meeting together as some were in the habit or practice of doing. Instead, believers must gather together to encourage one another, build up one another and motivate one another toward love and good works.
When the apostle Paul was at Miletus he sent to Ephesus for the elders of the church of Ephesus and here is what he told them:
Keep watch over yourselves and all the flock of which the Holy Spirit has made you overseers. Be shepherds of the church of God, which he bought with his own blood. (Acts 20:28 NIV)

Paul and Barnabas appointed elders for them in each church and, with prayer and fasting, committed them to the Lord, in whom they had put their trust. (Acts 14:23 NIV)
Paul instructs Titus about the appointment of elders to oversee the church (Titus 1:5-9 NIV). Paul and Barnabas appointed elders to govern the church. We could go on and on about the church government established by Christ which includes apostles, prophets, evangelist, pastors, and teachers that are listed in Ephesians 4:11-13. Nevertheless, it is not possible to study the Scriptures and not understand that Christ instituted the church of which He is the head and we are the body of Christ.
Stay-at-home Christians that have opted out of church attendance are actually living in disobedience (don't get mad) to God's will for their lives and God's plan for His church. The church is the body of Christ and each believer is a member and needs to belong to the local church which is under the spiritual oversight of God's Pastoral leadership (1 Corinthians 12:12-31 NIV).  The scriptures instruct believers to submit to the church eldership and its gifted leadership:
Obey them that have the rule over you, and submit yourselves: for they watch for your souls, as they that must give account, that they may do it with joy, and not with grief: for that is unprofitable for you. (Hebrews 13:17 KJV)
Stay-at-home Christians have frustrated church leadership for decades. Over the years Christian leaders have published hundreds of sermons, articles, and books along with numerous church growth conferences addressing the growing problem of attracting visitors, growing in numbers and membership retention. The conventional wisdom criticized the churches for failing to retain attendees while suggesting they learn from the secular business world and reach out with proven marketing strategies aimed at increasing attendance and retaining members. The general consensus among church growth experts was to change the way we "do church." Churches implementing these changes began to experience explosive growth and the megachurch was born. These "full-service" mega ministries soon became the all-inclusive something for everyone:
…no matter what your life looks like right now, we have a ministry designed specifically to meet your needs. (Gateway Church)
The database of megachurches lists roughly 1,668 megachurches (1,300 to 43,000 weekly attendees) with the top 50 plus congregations indicating weekly attendance between 10,000 to 30,000. The largest church, Joel Osteen's Lakewood Church, is leading the space with over 43,000 weekly attendees.
Stay-at-home believers are often disgruntled or highly critical of the local church. They are easily offended by many things. Many have a laundry list of complaints to justify their lack of participation. Moreover, as stated at the outset, 70 million of the unchurched people identify as Christians, but only 3 or 4 out of 10 identified themselves as "deeply spiritual." This raises a strong possibility that roughly 60% or 70% are not Christians in the spiritual or biblical sense, i.e., born again. We should not be surprised then to see these megachurches watering down the gospel message to attract large numbers of unspiritual attendees. Certainly, the megachurch's message does not resonate with the vast majority of born again fundamentalist Christians.
The megachurch formula incorporates a "seeker sensitive" or "seeker friendly" atmosphere that carefully guards against offending anyone. A wide variety non-spiritual social activities aimed at attracting and increasing attendance is used in place of direct evangelism. The congregational worship format has more of an audience/performance experience rather than a worship leader/worship participant feel. The Pastor's message usually has a highly motivational feel-good presentation packaged as a social gospel while void of heartfelt conviction of sin, repentance and being born again. The invitation is geared toward "accepting God's salvation gift" rather than heartfelt repentance from sin and surrendering one's life to Christ, which is the prerequisite for receiving salvation and new life in Christ.
Lakewood Church's salvation statement:
We believe Jesus died on the cross and shed His blood for our sins. We believe that salvation is found by placing our faith in what Jesus did for us on the cross. We believe Jesus rose from the dead and is coming again.
Saddleback Church's salvation statement:
Salvation is a gift from God to man. Man can never make up for his sin by self-improvement or good works – only by trusting in Jesus Christ as God's offer of forgiveness can man be saved from sin's penalty. Eternal life begins the moment one receives Jesus Christ into his life by faith.
What most Protestant and A. G. churches believe:
The Salvation of Man

Man's only hope of redemption is through the shed blood of Jesus Christ the Son of God.

(a) Conditions to Salvation

Salvation is received through repentance toward God and faith toward the Lord Jesus Christ. By the washing of regeneration and renewing of the Holy Spirit, being justified by grace through faith, man becomes an heir of God according to the hope of eternal life (Luke 24:47; John 3:3; Romans 10:13-15; Ephesians 2:8; Titus 2:11; 3:5-7).

(b) The Evidences of Salvation

The inward evidence of salvation is the direct witness of the Spirit (Romans 8:16). The outward evidence to all men is a life of righteousness and true holiness (Ephesians 4:24; Titus 2:12).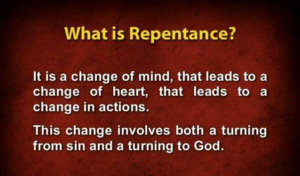 In both Lakewood's and Saddleback's statements of salvation, there are glaring omissions that are included in the traditional fundamentalist statement of salvation. The requirements of repentance, regeneration and a life of righteousness and true holiness are conspicuously not mentioned. Telling people that they are sinners in need of repentance and forgiveness is not something you are likely to hear in these megachurches, due to the mistaken belief that such language is offensive. Only people who refuse to admit they are sinners in need of repentance are offended by these words. The entire problem between God and man is that we are sinners and must turn back to God in full repentance. Until we are willing to look in the mirror and see a sinner in need of repentance and forgiveness "the truth is not in us."
If we claim to be without sin, we deceive ourselves and the truth is not in us. 9 If we confess our sins, he is faithful and just and will forgive us our sins and purify us from all unrighteousness. 10 If we claim we have not sinned, we make him out to be a liar and his word is not in us. (1 John 1:8-10 NIV)
It is highly unlikely that you will hear a message like:
I tell you, no! But unless you repent, you too will all perish. (Luke 13:3 NIV)

 Peter replied, "Repent and be baptized, every one of you, in the name of Jesus Christ for the forgiveness of your sins. And you will receive the gift of the Holy Spirit. Acts 2:38 NIV)
In some churches, telling people that unless they repent of their sinful lives and turn to God through Christ they will one day perish in a fiery hell is liable to get you a strong rebuke, e.g., "brother… we don't use judgmental language in this church."
A. W. Tozer once said, "what you win them with is what you win them to." With an estimated 156 million churchless Americans and roughly 70 million of them professing to be Christians, Christian leaders have a responsibility to preach true repentance and salvation and not a social message of easy believism or cheap grace that fills the church membership rolls with unrepented sinners.  We do not need another feel-good social gospel message that omits the truth. The truth may not flood the church with newcomers, but at least those in attendance will hear the full gospel message that brings a person to true repentance and forgiveness of sin that results in one being born again. It is far better to be washed white by the blood of Jesus Christ than to be whitewashed with a feel-good message.
To those of you in the habit of sitting home every Sunday, I would urge you to start looking for a church where the full gospel message is preached without compromise or apology for its content. The stay-at-home philosophy is clearly inconsistent with the scriptures. If you have not repented and been born again when you hear the message that you are a sinner and need to repent, get up and head to the altar, not the exit door. Don't be offended by the truth. Surrender your life to Christ, totally, completely and in every way. Fall to your knees in genuine heartfelt repentance and say forgive me, Father, for I am a sinner in need of your forgiveness, mercy, and grace. Cleanse my heart of all my wicked and unrighteous ways and create within me a new heart. From this day forward I commit my life to you and your word, to put you first and above all others in my heart and life. I humble myself and willingly submit my life to the Lordship of your Son Jesus Christ. I recognize that I am no longer my own person, but that you purchased my salvation on the cross and forever more I belong to you. It is my desire to do your will and follow you all the days of my life. I love you with all my heart, mind, soul, strength and being. Thank you for saving me from my sin.
I can guarantee you that such an experience, such a heartfelt confession will release the transforming power of God into your life and you will never be the same again and you will never ever want to be the same again. For God will lift you out of the pit, out of the muck and mire of sin, cleanse you of all your wicked ways and place your feet on the solid rock of our salvation, Jesus! It will be as if you someone turned on the light in a dark room where you were virtually blinded by the darkness, but now you can see.
The scriptures tell us that one day Christ will appear in the clouds and return to earth and all of mankind will know that He truly is the Lord of Glory. Every knee will bow and acknowledge He is who He claimed to be. Those under the earth, living on earth and those in heaven will all see Him and know He is the Lord God Almighty.
That at the name of Jesus every knee should bow, of those in heaven, and of those on earth, and of those under the earth, and that every tongue should confess that Jesus Christ Lord, to the glory of God the Father. (Philippians 2:10-11 NKJV)
On the day of His return the whole world, the living and the dead, will come to the realization that Jesus is Lord, that He truly is the Son of God and our Lord and Savior. All who failed to repent and be born again before His return will not be saved from eternal damnation. For many, it will be too late to repent. Only those whose names are written in the book of life will enter into His presence while all others will meet a fiery and eternal destiny in the lake of fire.
My friends, how shall we escape the coming judgment of God upon all those that refuse to repent and turn to Him? How can anyone look at the cross upon which Jesus suffered and shed His blood for our forgiveness and simply walk away? All who refuse to turn to God in this life will not enter the eternal presence of God in the afterlife. This is Lord's word! Consider this:
We must pay the most careful attention, therefore, to what we have heard, so that we do not drift away. For since the message spoken through angels was binding, and every violation and disobedience received its just punishment, how shall we escape if we ignore so great a salvation? This salvation, which was first announced by the Lord, was confirmed to us by those who heard him. God also testified to it by signs, wonders and various miracles, and by gifts of the Holy Spirit distributed according to his will. (Hebrews 2:1-4 NIV)
God has stated that we are all sinners and must repent. It is God's desire to save us from our sin. He is patient and loving, not wanting any of us to perish and suffer eternal separation from His presence. He demonstrated His great love by sending His Son to take upon Himself our punishment for sin. He is waiting for all of us to repent and submit our lives to His will.
The Lord is not slow in keeping his promise, as some understand slowness. Instead he is patient with you, not wanting anyone to perish, but everyone to come to repentance. (2 Peter 3:9 NIV)
Isn't it time to turn to Jesus?
---
 If you have been encouraged by New Life Exchange, you can share us on Facebook or other social media sites at the bottom of this page. Thanks for sharing!